This counter started at 12nd Oct 2013
but site started since 10th Jan 2009
Production of Yaha head phone amplifier evolving
Yaha is "Yet Another Hybrid Amp"meanning.but my amplifier is not Yaha.
Just like Yaha Amplifier.other side of Yaha Amplifier.
His original site
but my WEB is only one valuve amplifier with hybrid DC/DC converter for
power supply.I don't use IC driver for headphone.
DC/DC converter is from 5V to 19V IN DC and OUT PUT has +- 15V DC 60mA capability.
so +B is +30V volts for Plate voltage into 6DJ8.I think if may I use battery valuve
like a 3S4 etc I can get more powerful sound from HeadPhone.even can be use RCA 30 too.
Audio Transformer is audio old radio transistor transformer.avalable in comercial
of Japan and still we can get easy Sansui original trasnformer and 3rd party
product in Japan, and very cheap.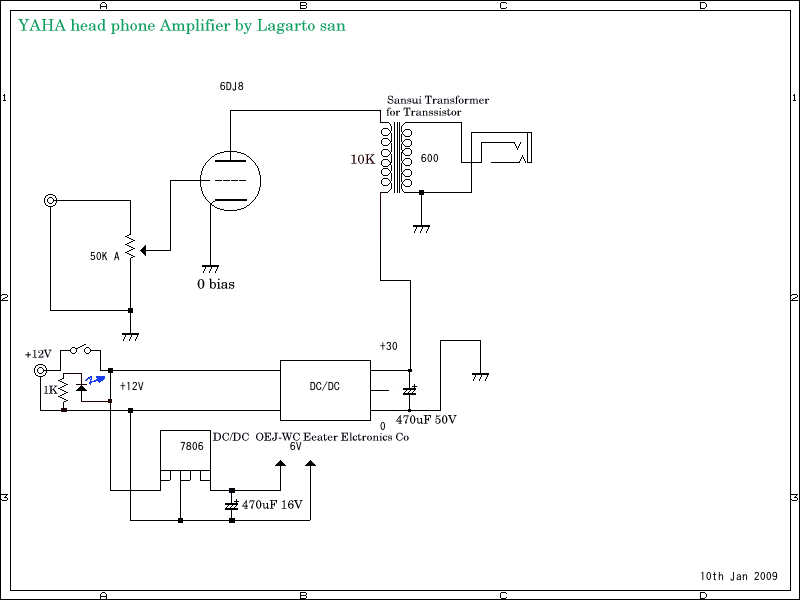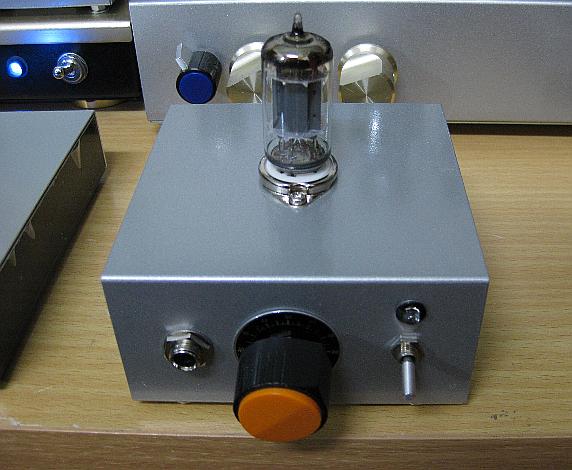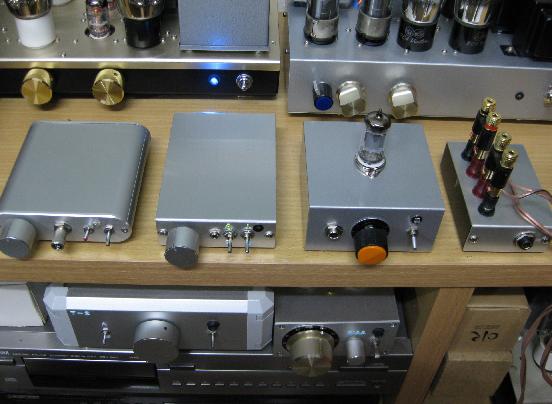 HeadPhone Amplifier by Lagarto
Japanese version is here
5687 Push Pull head phone amplifier Here
C Moy by Lagarto Here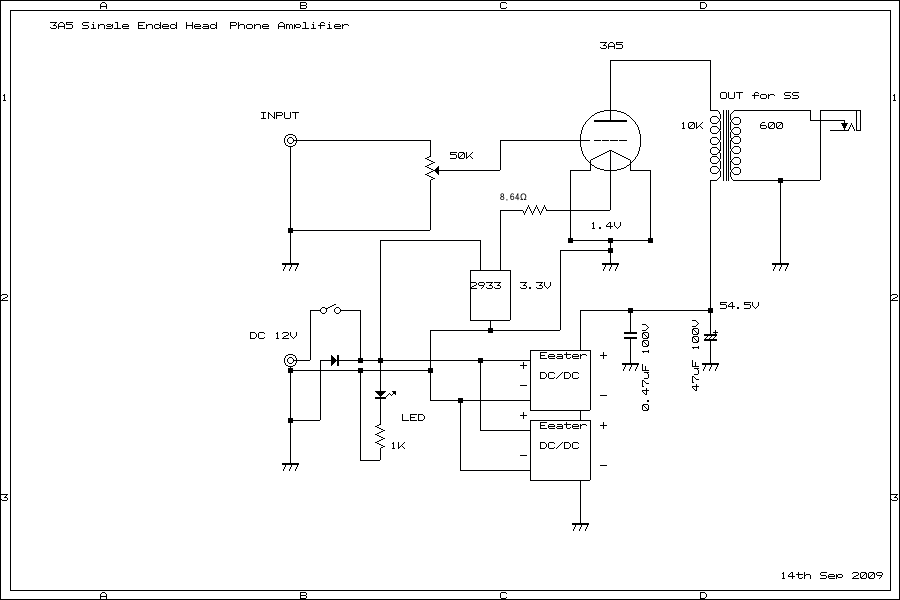 sound is very good and good S/N. finally DC/DC converter in series so +B is
I got 54.5V .still grid bias is 0 V.nothing problem to use anywhere with battery and
AC Adaptor of +12V even plays +5V battery.sound like DHT SE ,so great sound from
Head Phone . RCA 3A5 DHT single ended headphone amplifier right now.
this amplifier plays from +5V to +12V AC Adaptor or 006P +9V Battery.too
3A5 is actually Transmitting valve so have to bias 0 to positive grid.
few mA and plate voltages is 54V, disspation is nominal 2W. so 0.25W input now
sound like VT25 single ended amplifier.very clear and good for Jazz female voice .
violin etc.plays good for any Jazz and classic too.many time tested other valves
but 3A5 is much better sound got.intead of DC/DC converter can be use some home equipments
supply and small low voltage transformer.if does not get DC/DC modules.
Audio Transformer are small old radio( Solid State)transformer can be use.

Note: filaments voltage 1.4V DC is feeded center of filament(pin4) for does not
get unbalances position.if use 2.8V for filament voltages feed to 1 and 7 pin.
does not get vocal on center position.so need 1.4V DC for filaments.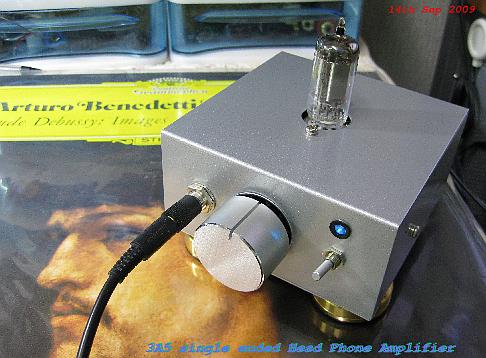 3A5 Single ended Head Phone Amplifier plays at +5V AC Adaptor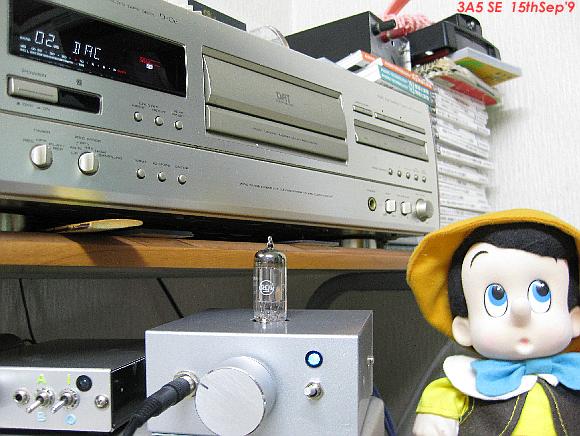 close to original Yaha Amplifier DIY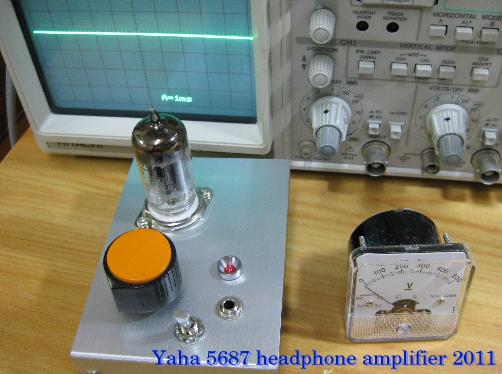 Yaha Amplifier with DC/DC converter power supply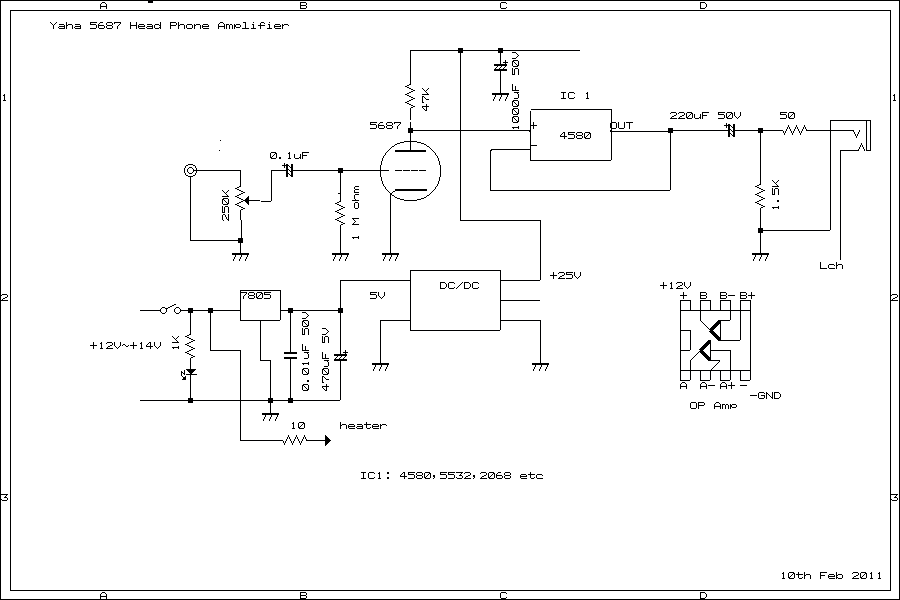 This is YAHA Amplifier but power supply is using DC/DC small unit for get 25V +B.
sound is very great than original Yaha Amplifier.I like sound of original Yaha too.
but I can get much more miner distortion sound getting than low +12 V power supply.
new type Yaha amplifier plan is ,,, please see Japanese version for detail.
YAHA: 0.1uF and 1M ohm network at input of valves is very important.this network make
small bias for grid and negative voltage.this parts is non liner region of Ep/Ip curve
of valves.non liear parts made negative voltage for grid bias.so can make small valve
amplifier at low +B voltages.

0.1uF and 1 M ohm if does not use ,does not get sound from amplifier.because this
one made small bias voltages for valve.
Latest Version ,Yaha Head Phone Amplifier on 12nd Oct 2013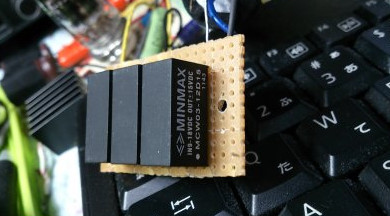 This is 3 unit of small DC/DC converter Minimax
This unite are ,,probably Made in China.MCW03 Series MCW03-12D15(MINMAX Made) and 1 unit can be get +-15V so will be get 30V in series
so 3 unit are series to get +90V with high frequency ripple.then need some filter. ripple are going down till 10mV rms.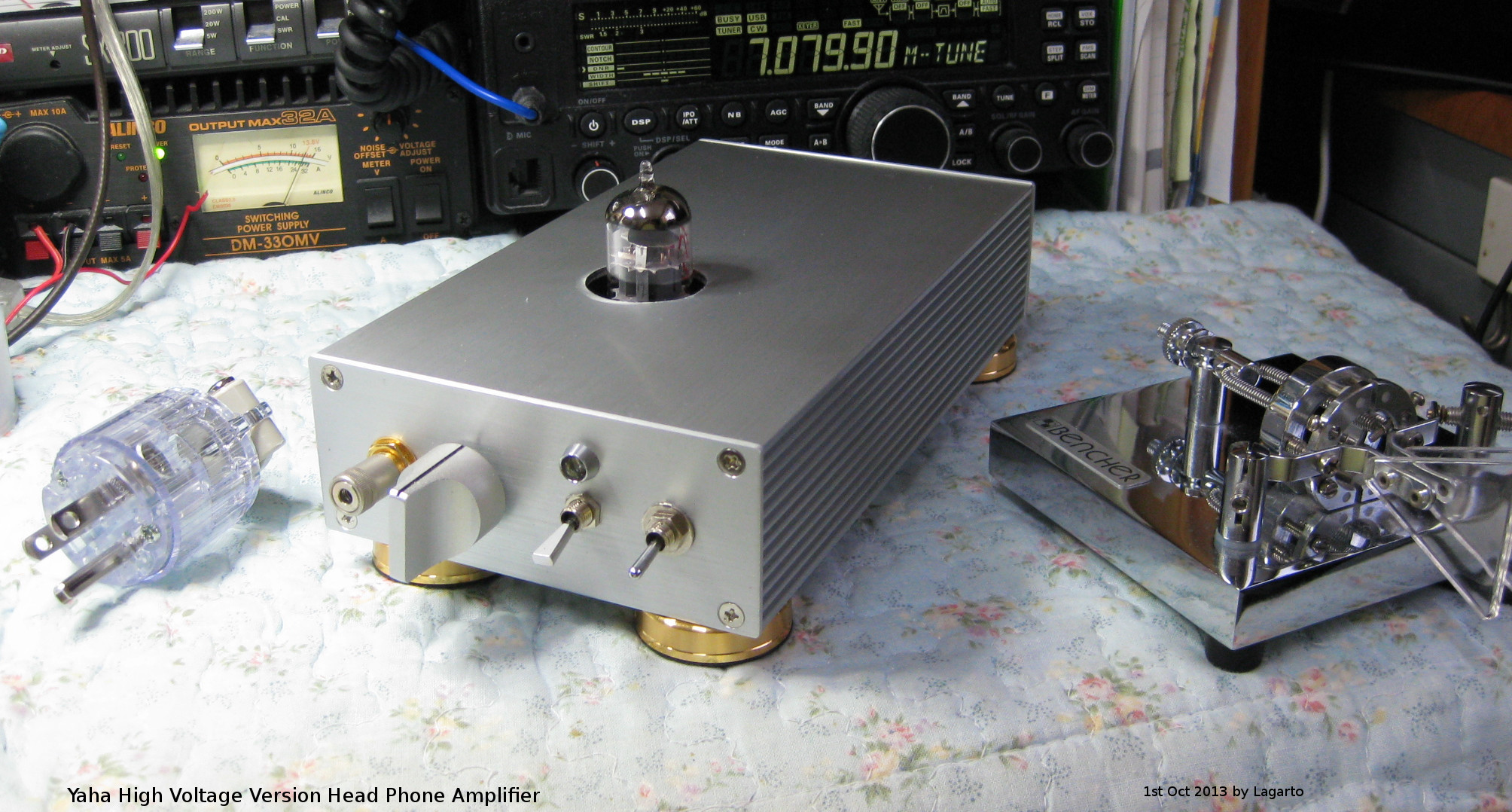 Yaha High voltage Version ECC82 ,Just latest version of Yaha Head phone Amplifier on 12nd Oct 2013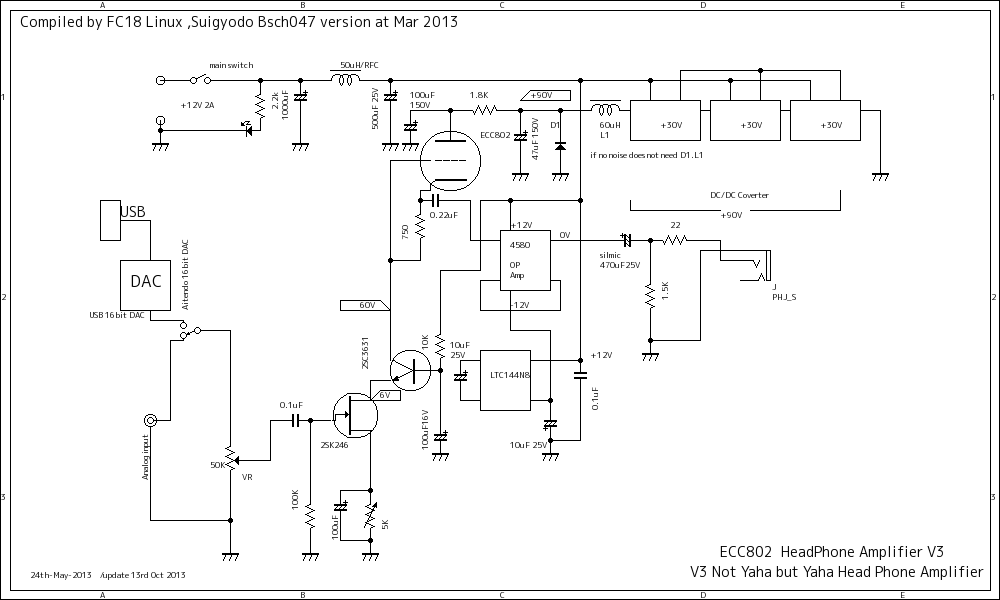 Schematic Diagram of above New Version Yaha Head Phone Amplifier on 2nd Oct 2013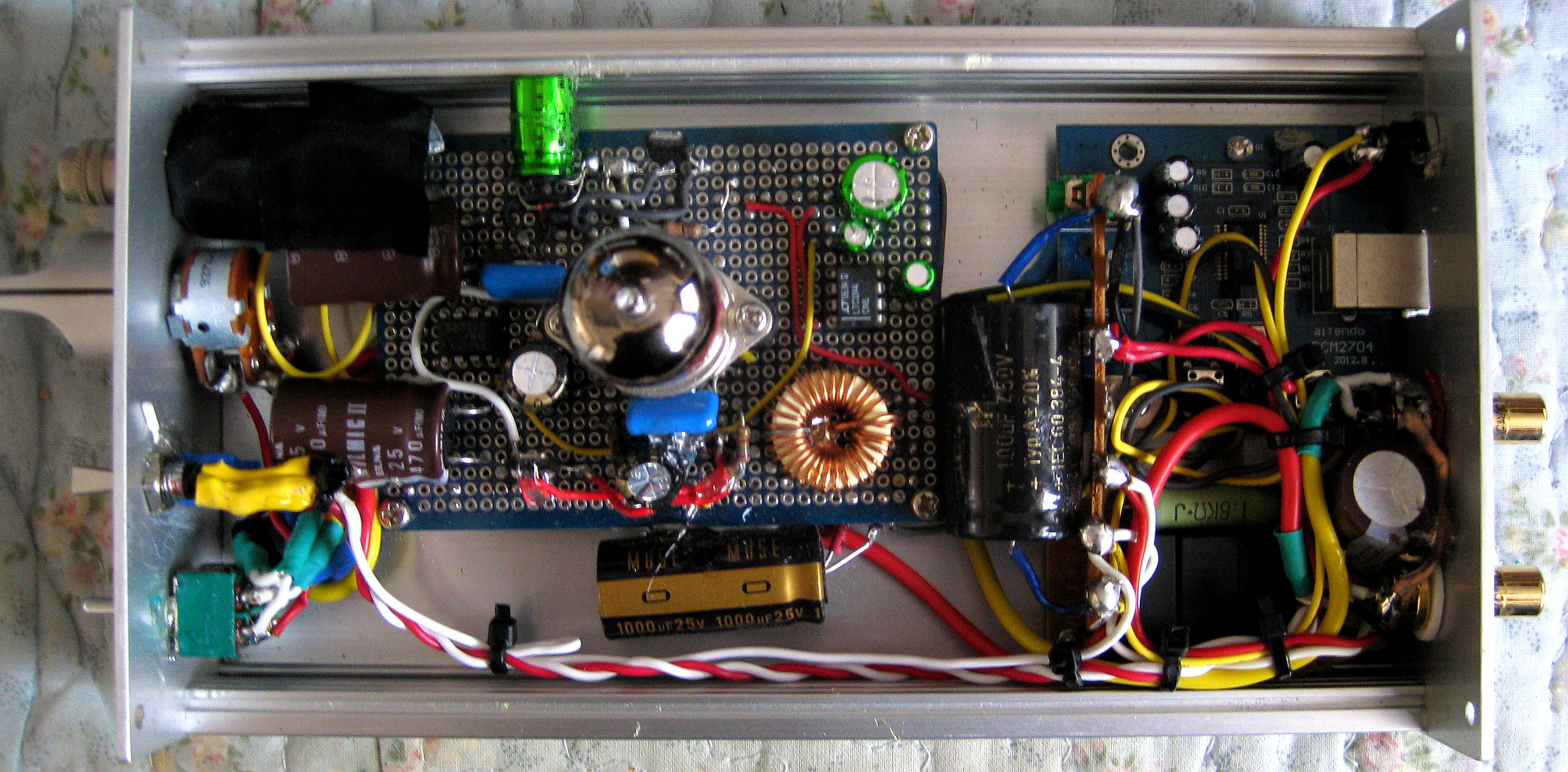 In side of High Voltage version this Yaha is not Yaha Headphone Amplifier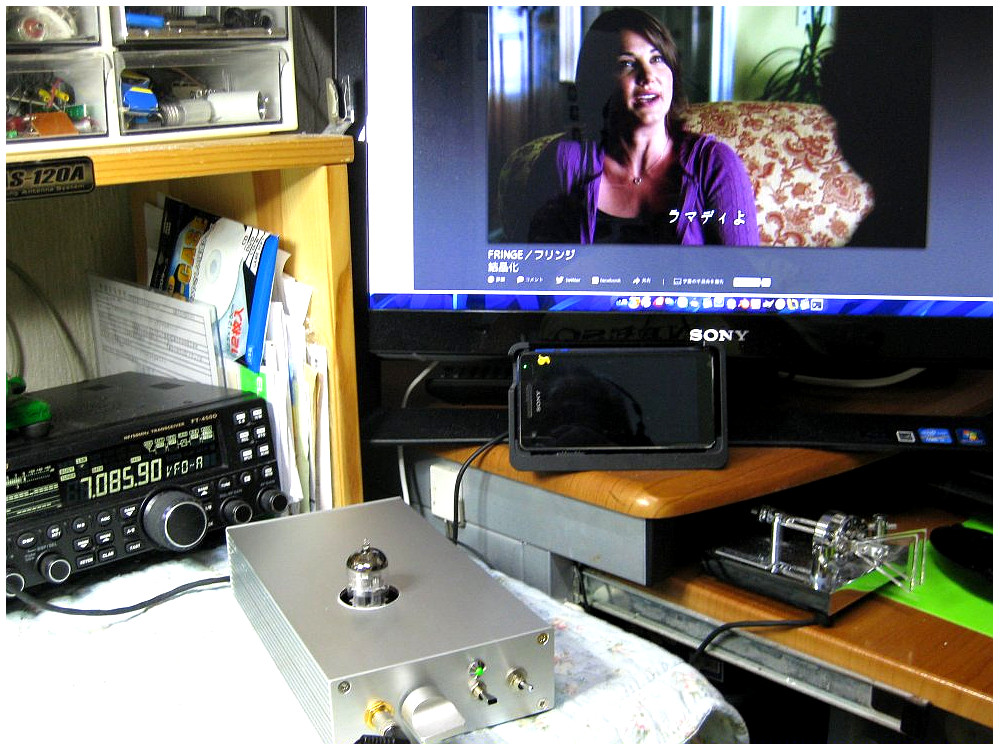 This Yaha Headphone Amplifier has line analog input and USB input from your PC Oct 2013
One of friend of mine ,Audio D.I.Yer Dr Joaquin Iglesias's Audio DIY Audio DIY Site from Chile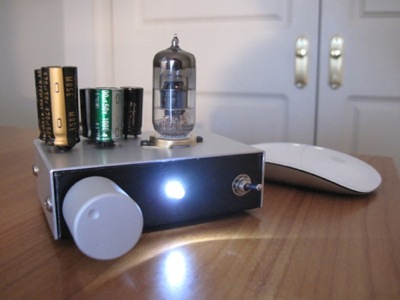 Yaha Amplifier Made in Chile
Just I got a letter from Chile.I recommended build up Yaha Amplifier.few month later
I got picture of Yaha. he said "sound is very clear and dinamic".he said
No2 on 10th June 2011,No2 Yaha Amplifier by Dr Joaquin is next.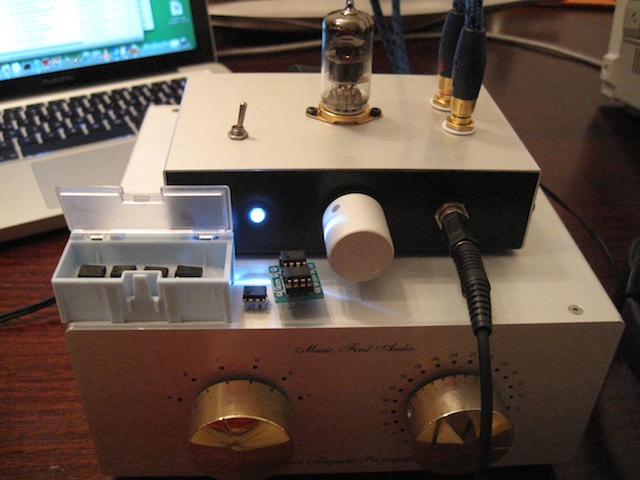 No2 Yaha Amplifier by Dr Joaquin
After long time past,,my Yaha Amp
Aitendo Chines 16bit USB DAC これUSD $ 10 dollars DAC SPDIF
Only USB input use this one
Looks good is enogh
DAC Yaha inside
Ver Japaneseby Lagarto
Yaha Head phone Amplifier still going on progress

De JH1DAS ex WB4ACI and ex WB4ACI/CE3
Single Ended Amplifier D.I.Y
How to build up Amplifier Single Ended Amplifier D.I.Y 2003-2017
Since 10th Jan 2009 (Last up Date 25th Jan 2017) from Sakura Chiba Japan