2A3/45 Single Ended Amplifier
Atacama by Mizushima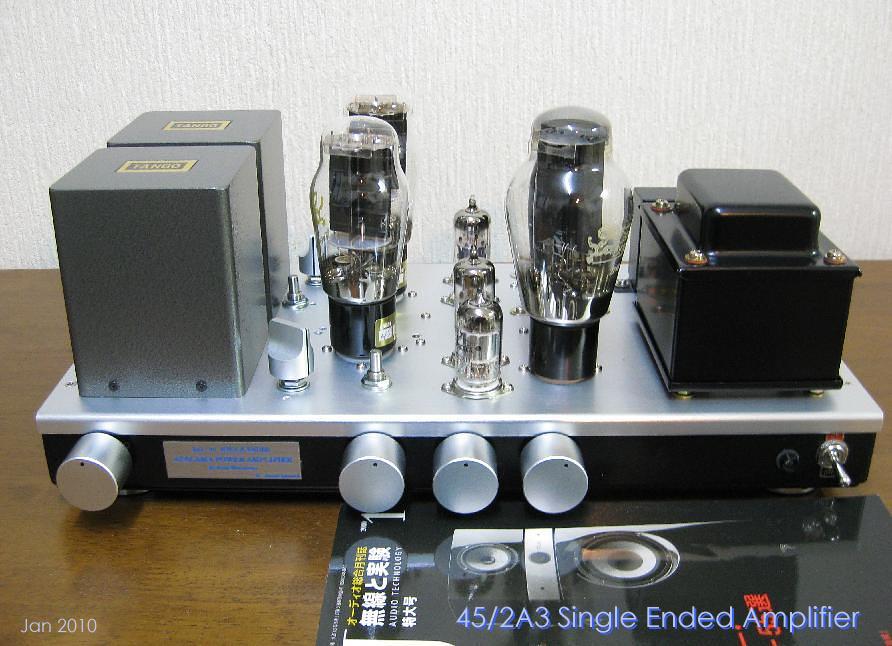 Front of 2A3/45 Single Ended Amplifier with ISO Tango XE20S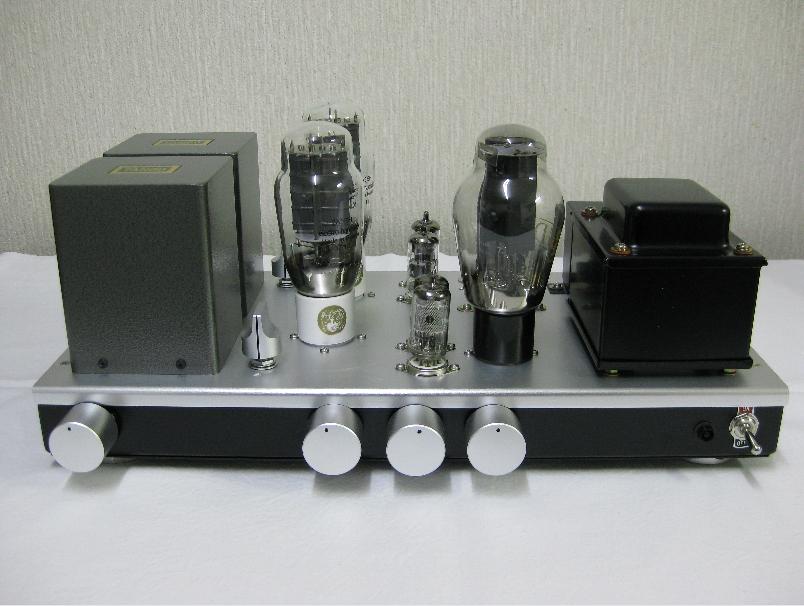 ISO Tango XE20S 2A3 Single Ended Amplifier
frequnecy resonse is within -1dB from 10hz to 100Khz at 1W rms
power is 3.5W rms, max power is 5W rms.I will start build up 2A3 Single Ended Amplifier
Input line are RCA of 2 line and one of Balanced input.
Amplifier can be use both RCA 45 and 2A3. Audio Transformer are ISO Tango XE20S.
Balanced line is using 2 of Tamura TK20 600/10K ohm high end maching transformer.
can be use RCA 45 so compatible amplifier.2 SW are 45/2A3 change state and one of
back side SW is impedance SW.out put is only for 8 ohm.primary impedance are
interchangeble wit SW .primary impedance are 5 K,3.5K and 2.5Kohm.
5K ohm for RCA 45, 2.5K for RCA 2A3 and 3.5K ohm for new type 2A3.
Df control SW is located front of panel.0dB NFB(non NFB)and 3 position of NFB.
DF is around 2 to 3.Non NFB sound very clear.recomendalbe speaker are over 90dB/m/w
effiency system.96dB/m/w will be sound great.Balanced line is 2pin positive and 3 for
negative,1 is ground line.
wire are gold for ground line,some parts is silver and ten 9er OFC wire for build
up amplifier.small power amplifier but sound is great from Mizushima.
This Amplifier does reproduce best sound for Violin,Chello and Piano solo.

Comments from Dr Joaquin Iglesias's Audio WebVina de Mar,Chile
Comments from Dr Joaquin Iglesias's Audio WebOriginal Site
Since 23rd Dic 2009 Last up date 26th May 2014

Single Ended Amplifier D.I.Y edited by Linux Blue Fish
How to build up Amplifier Single Ended Amplifier 2010-2014